IOF Member of the week:

Chaz Fausel, MD
IOF is proud to play a role in educating the next generation of regenerative medicine experts. This week's featured member has been attending IOF courses since very early in his career and has gone on to become an instructor himself.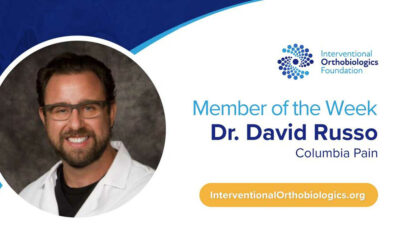 Dr. Russo is a board-certified, fellowship-trained physical medicine and rehabilitation specialist and interventional pain physician. He completed medical and graduate school at the University of North Texas Health Science Center at Fort Worth and residency at the Mayo Clinic before relocating to Oregon for fellowship training in Pain Medicine at Oregon Health Sciences University.
read more
Contact Us
IOF Training Center:
403 Summit Blvd
Broomfield, CO 80021

IOF Business Office:
3801 E. Florida Ave #635
Denver, CO 80210
Phone: 303-469-4431
Fax: 303-479-2608