Our member of the week blog introduces you to our fellow level members, showcasing their unique work and commitment to IOF. We feature different fellows who have made extraordinary contributions to the field of Interventional Orthopedics.
To be considered for this feature, please email us. 

Meet Dr. Mayo Friedlis 
Practice Website: StemCell ARTS
Connect with Dr. Friedlis: LinkedIn
Today we'd like to introduce you to Dr. Mayo Friedlis of StemCell ARTS. Dr. Friedlis is passionate about the science of pain management and committed to delivering the most effective therapies possible to each of his patients. 
Dr. Friedlis is committed to helping people in pain, whether their problem is simple or complex. He believes that "we must always challenge ourselves to stay on the cutting edge of our field. We must evaluate each new treatment option that comes available and gauge if it can help our patients. If it can, then we have a responsibility to do what it takes to bring it into practice, so that our patients can benefit." His philosophy is to approach each case individually, with the goal of actually curing the patient, as opposed to simply controlling their pain. "Find the underlying cause of somebody's problem and actually try to fix it" is his motto.
Having introduced the idea of Regenerative Treatments for musculoskeletal injuries and disease to the Washington DC area over 20 years ago, Dr. Friedlis was voted among WASHINGTONIAN and NORTHERN VIRGINIA Magazine's Top Doctors. He is currently serving as Co-Medical Director of National Spine and Pain-VA. Dr. Friedlis is a nationally recognized expert in pain and is a frequent speaker at national conferences on Regenerative Therapies. Dr. Friedlis earned his medical degree from Wayne State University and was selected Chief Resident during his residency at Sinai Hospital in Detroit. He is Board Certified in Physical Medicine and Rehabilitation and is a Diplomat of the American Academy of Pain Management and the National Board of Medical Examiners. He maintains several active memberships, including the American Association of Orthopedic Medicine, American Academy of Pain Management, American Society of Interventional Pain Physicians, the International Spinal Injection Society and Virginia Medical Society.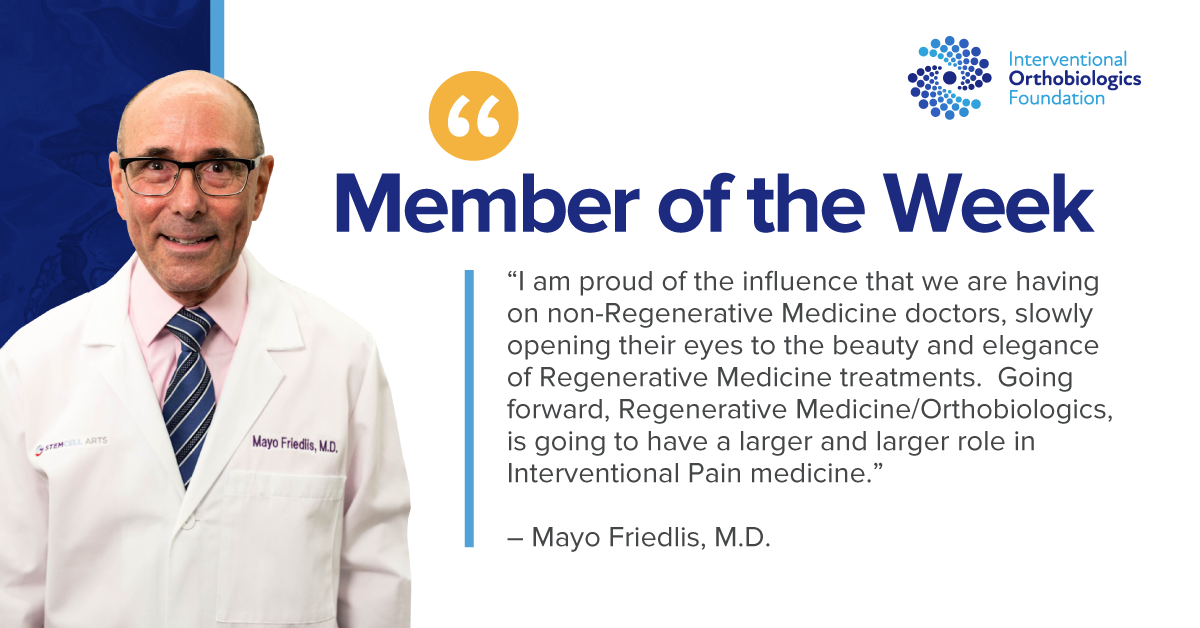 Get to know Dr. Mayo Friedlis
IOF: Tell us about your journey in regenerative medicine.
Dr. Friedlis: It has been a blessing to have had a 30-year career in Regenerative Medicine.  I started learning from mentors in the AAOM, first in Prolotherapy, then US guided procedures, then later, the Regenexx platform and IOF. Although sometimes I get to be the mentor now, I am still thrilled to be adding new skills and knowledge in this great specialty. What a ride.
IOF: What do you treat most frequently with Regenerative Medicine?
Dr. Friedlis: As a Regenexx provider, I treat everything.  But I have a love affair with the spine and pelvis.  Since our regenerative practice, StemCell Arts is under the umbrella of National Spine and Pain Centers, we work with many Interventional Pain doctors, of course.  I am proud of the influence that we are having on all those non-Regenerative Medicine doctors, slowly opening their eyes to the beauty and elegance of Regenerative Medicine treatments.  Going forward, Regenerative Medicine/Orthobiologics, is going to have a larger and larger role in Interventional Pain medicine.  
IOF: What is your best advice for others wanting to get into regenerative medicine? 
Dr. Friedlis: I frequently get asked by physicians how to become a Regenerative Medicine doctor.  Most want to add it as an injection, like kyphoplasty or a stem implant.  To truly become a Regenerative Medicine physician, you have to begin by getting an understanding of how the body works together dynamically.  Understand ligaments and tensegrity and why they are important in pain, and you will begin to grasp Regenerative Medicine. IOF and AAOM are great places to start that journey.