Today, we are excited to introduce you to an IOF Member with a very interesting professional history. 
After serving as a Flight Surgeon on an F-18 squadron with the Canadian Air Force, Dr. Grant Pagdin went on to complete a fellowship in Family Practice (FCFP). His focus now is regenerative medicine, but he is also a clinical instructor at the University of British Columbia and a surgical assistant at Kelowna General Hospital.  When not working he enjoys triathlons and playing keyboards in a rock band.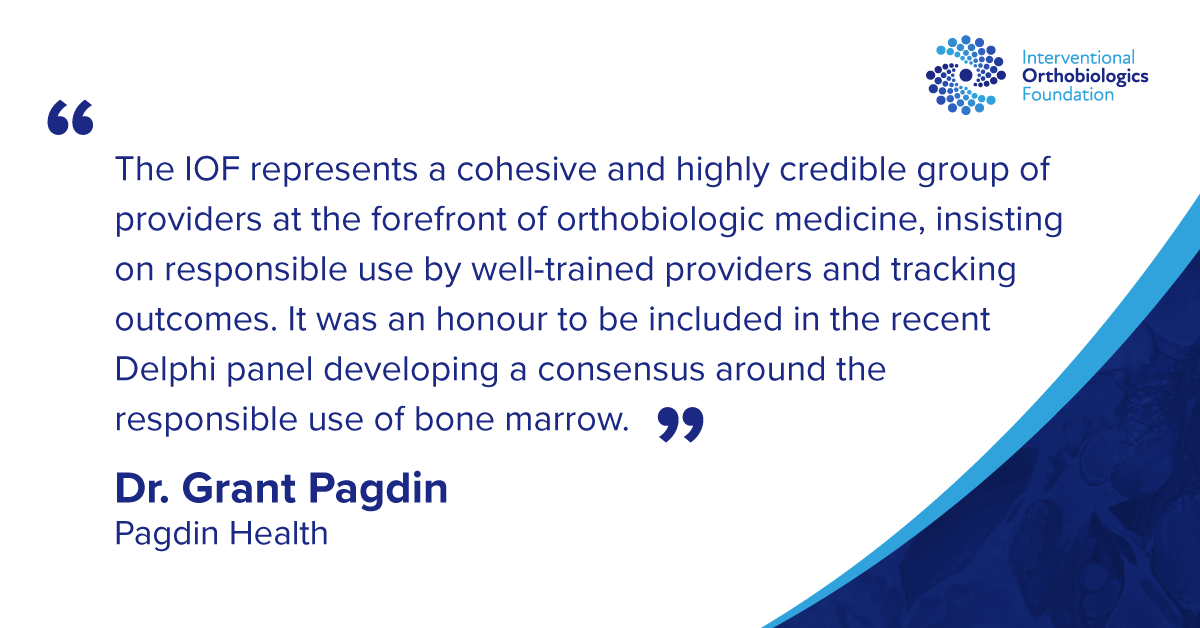 IOF: Tell us about your clinical research examining using PRP With Lipoaspirate and/or Bone Marrow Aspirate  to treat Osteoarthritis. 
Although our launch was delayed by Covid, we began enrolling patients into our clinical trial using orthobiologics for osteoarthritis in September 2020. So far, we treated 45 participants.  We will be enrolling a total of 240 subjects with osteoarthritis of a major peripheral joint, who get randomized to receive either PRP plus lipoaspirate, PRP plus bone marrow aspirate, or the combination of PRP with both lipoaspirate and bone marrow aspirate.  
The hypothesis is that the combination of all three ingredients may prove superior.  We will be tracking outcomes for 24 months. This is the first project of its kind to have the approval of Health Canada, where all of these orthobiologics products are treated as drugs (we have no 361 exemption!)  Further details about the trial can be found at www.clinicaltrials.gov/ct2/show/NCT03984461
What are you most proud of?
The Clinical Trial Application I submitted to Health Canada has resulted in approval for the "first of its kind" Canadian stem cell research project for osteoarthritis!
Which IOF course was/is your favorite and why?
The coolest experience I've had yet in an IOF course was during "Advanced Knee and Hip" watching the fluoro screen as I injected contrast into an ACL sheath.
If you would like to be featured as an IOF Member of the Week, please email info@interventionalorthopedics.org for consideration.