Our Member of the Week blog introduces you to our fellow level members, showcasing their unique work and commitment to IOF. We feature different fellows who have made extraordinary contributions to the field of Interventional Orthopedics. To be considered for this feature, please email us. 
Practice websites:
Connect with Dr. Derrington
Meet Dr. Stephen Derrington 
Our latest IOF Member of the Week might look familiar to some of you, he also serves as an IOF instructor! 
Dr. Stephen Derrington is a board-certified, fellowship-trained Physiatrist. Dr. Derrington is the owner, CEO, and lead physician of Derrington Orthopedics- Interventional Sports and Spine. 
As part of a comprehensive treatment plan, he uses Interventional Orthobiologics to treat spine and peripheral joint conditions throughout the body. As a doctor of osteopathic medicine, he understands the connection between structure and function and devises holistic treatment plans to help the body heal itself without surgical intervention.
After graduating from medical school at Kansas City University of Medicine and Biosciences, he completed his internship at Wellington Regional Medical Center in Wellington, Florida and residency at Thomas Jefferson University in Philadelphia, Pennsylvania. Dr. Derrington then completed a fellowship in Napa, California, with Marko Bodor, M.D., advancing his skills in diagnostic ultrasound and interventional procedures using ultrasound and fluoroscopic guidance, regenerative medicine, and electrodiagnostics. 
Dr. Derrington continues his regenerative medicine training with Regenexx and the Interventional Orthobiologic Foundation and helps educate fellow physicians as an expert instructor for the Interventional Orthobiologic Foundation.
Dr. Derrington has published papers and textbook chapters on Interventional Orthobiologic treatments, spine procedures, tendon disorders, and ultrasound-guided injection techniques.
When not seeing patients or teaching, Dr. Derrington stays active via CrossFit and enjoys eating good food, listening to good music, and exploring the world with his family.
Q&A with Dr. Derrington
IOF: Who are your biggest mentors in regenerative medicine & why?
Dr. Derrington: I have been fortunate to work closely with many outstanding physicians in the field of regenerative medicine, but two stand out for me.
Gerry Malanga, MD was one of the first physiatrists I met as part of a medical school elective rotation. After my month rotating with him, there was no question what speciality I wanted to pursue. Through his evidence-based and forward thinking approach to rehabilitation medicine, I was able to see the positive impact that I could have on patients' lives. Working with Dr. Malanga as a part of the IOF has been a wonderful way to reconnect over 12 years after our first meeting.
Fellowship with Marko Bodor, MD was one of the best learning experiences I've had in my career. Marko is always thinking outside of the box and using his expansive medical and scientific knowledge to solve new problems when they present. The diagnostic and procedural skills that were developed during my fellowship have been invaluable, but advancing my problem solving skills for the patient that's in front of me today may be the thing I'm most proud of.  Working with Marko was my first prolonged exposure to regenerative medicine treatments and it was so rewarding to see the outcomes our patients had. My fellowship experience gave me the confidence to fully commit to using orthobiologics in my practice.
What is your best advice for others wanting to get into regenerative medicine?
Dr. Derrington: It's important to understand that using regenerative medicine isn't as simple as putting something different in your syringe. It's a complete mindset change in how you approach the patient from the initial encounter, making a diagnosis, and guiding them through treatment and rehabilitation. If you're just getting into regenerative medicine, utilize the resources that are available to you. Go to conferences, take hands-on courses, and ask lots of questions.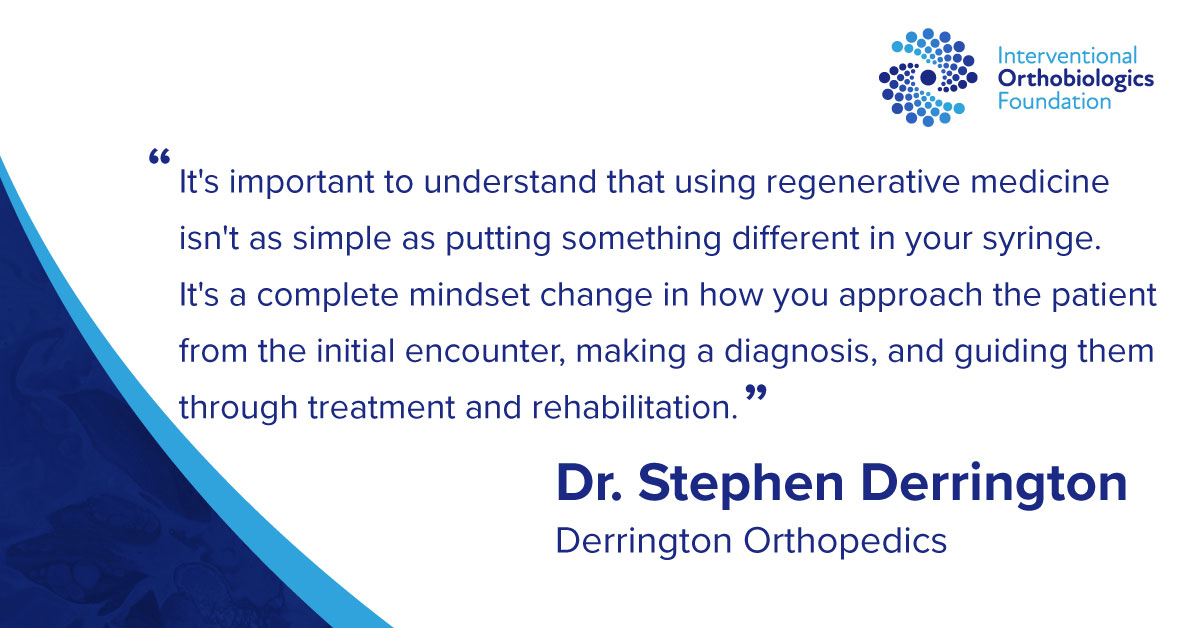 What do you most look forward to when attending IOF's annual conference?
Dr. Derrington: The annual IOF conference is the only conference I've been to where I'm excited to hear every lecture. I love being able to reconnect with friends from all over the world and I learn so much from the conversations that are had after the lectures are over.