IOF Member Of The Week: Dr. John Pitts
Practice Website: Centeno Schultz Clinic
It's Friday, and you know what that means: it's time to introduce you to our member of the week! Each week we select one of our exceptional fellow-level members to profile on our blog and social media. 
Today, it is our pleasure to introduce you to Dr. John Pitts. After seeing how traditional pain management techniques failed to provide his patients with lasting relief, Dr. Pitts turned to regenerative medicine. We chatted with Dr. Pitts about his foray into Interventional Orthopedics and his advice for physicians interested in learning regenerative medicine techniques. 
Meet Dr. John Pitts
Read Dr. Pitts' E-book, Nutrition 2.0: A guide to Eating and Living to Achieve a Higher Quality of Life Now and into Your Golden Years: Link HERE
Connect with Dr. Pitts on LinkedIn: Profile HERE
Get to Know Dr. Pitts 
IOF: How did you become interested in Interventional Orthopedics? 
Dr. PItts: I became interested in Regenerative medicine not because it sounded cool or to make money, I veered down this path because I saw the traditional pain drugs and steroid injections I was trained in didn't help a lot long term. I initially thought regenerative medicine was hokey until I took a look at the evidence and thought processes on how people can actually heal from injuries. Shout out to Dr. Mautner who first exposed me to PRP during my Emory PMR residency training. The cool part about my career now is I can actually give patients a safe, effective alternative to help them feel better and also heal tissue. My patients are so grateful and it's a great feeling!
IOF: What do you treat most frequently with regenerative medicine? 
Dr. Pitts: The great thing about my job is that I only use regenerative medicine to treat my patients, no steroids and no chronic pain medicine management.  In a week I literally could have treated every body part area from head to toe. The most common things I see are low back, knee problems, and neck issues.
 IOF: What do you like the best about the IOF conference and our courses? 
Dr. Pitts: I love attending IOF courses when I am teaching because it is also a great opportunity  for me to continue learning. I love to go to the annual IOF conference and hear the top doctors in the field present their research and new Ideas that I can bring back to my practice.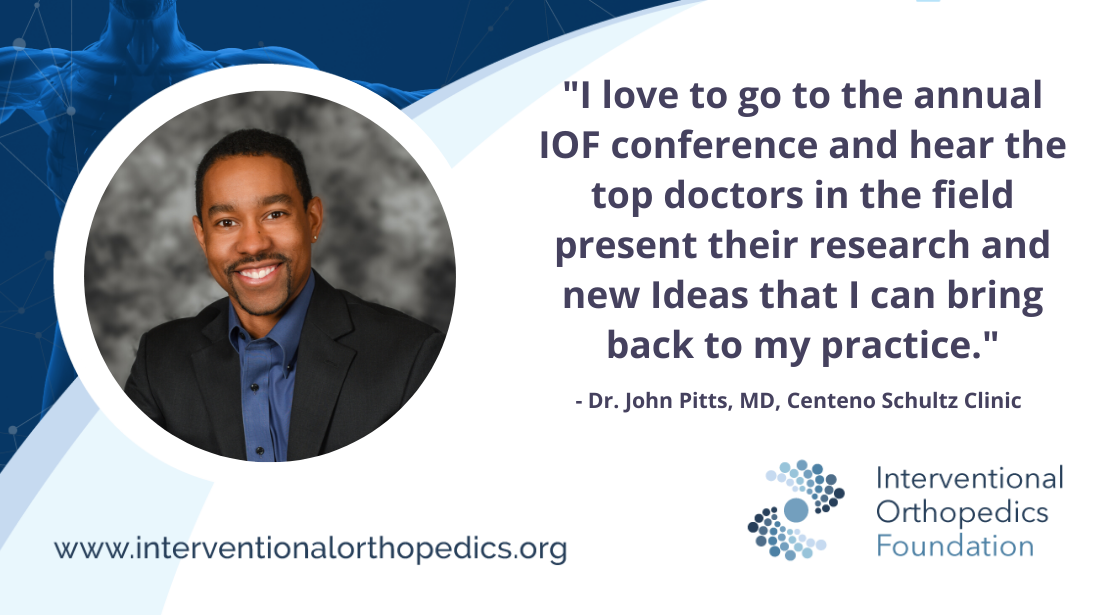 IOF: What is your best advice for others wanting to get into regenerative medicine? 
Dr. Pitts: The best advice I have for those wanting to get into regenerative medicine is forget most of what you learned in the traditional pain medicine world of trying to isolate the main pain generator. You have to relearn how to be a thorough and thoughtful physician with regard to examining and diagnosing patients. Meaning if a patient has knee pain, being able to evaluate all the ligaments and tendons of the knee, looking for contributing factors from the back hip and or ankle, and then learning how to treat all those problems is critical.
If you would like to be featured as an IOF Member of the Week, please email info@interventionalorthopedics.org for consideration.